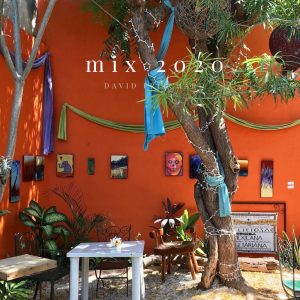 I listen to music while I work. I listen without lyrics. I mostly just consume what the Apple algorithm feeds me.
So, I'm not going to pretend any ownership over this list. It's really just a "best of Apple music, 2018/19." For the record, the stock playlists I prefer are: Untitled, Loops, Headspace, Living in the Library and Vibes.
But: at least I'm listening mostly to music from the past decade, and finding rock and r&b tracks that I like. The flavour of this mix is very low key, suitable to my mood when I put it together in February. It doesn't really fit with the "brief relief from a coronavirus" that we're going through now, but whatever.
I'll be honest: no one else listens to these mixes. I make them mostly for myself, as a way to sift through the best things I've heard, take note of the artists I liked best, and branch out to their full albums and other work. The raw material for this mix is a solid 200 tracks that caught my eye, and it was fun to cull them down to this highlights list.
Download a zip of MP3s here, or listen with your favourite streaming service below.
james blake feat. rosalía. barefoot in the park. pop, 2019.
nicolas jaar. mi mujer. dub, 2010.
maribou state. turnmills [edit]. downtempo, 2018.
pantha du prince. bohemian forest. techno, 2010.
chet faker. no diggity. r&b, 2012.
calvin harris feat. frank ocean & migos. slide. r&b, 2017.
allan rayman feat. jessie reyez. repeat. r&b, 2017.
art school girlfriend. distance (blank). rock, 2018.
alex lahey. am i doing it right? rock, 2019.
cherry glazerr. daddi. rock, 2019.
two people. something to talk about. trip hop, 2018.
barr brothers. you would have to lose your mind. rock, 2017.
ben howard. nica libres at dusk. rock, 2018.
reuben bidez feat. molly parden. what you really wanted. folk, 2018.
kimya dawson. tire swing. folk, 2006.
wildes. illuminate. rock, 2016.
dusted. all i am. rock, 2018.
bearcubs. do you feel. electronic, 2018.
velvet negroni. crybaby. electronic, 2018.
manila killa & mansionair. wake up call. pop, 2018.
bicep. vale. techno, 2017.
major lazer feat. amber coffman. get free. dancehall, 2012.
floating points. anasickmodular. acid jazz, 2019.
martin nonstatic. innermost structure. ambient, 2017.
orbital. tiny foldable cities [edit]. techno, 2018.
dining rooms. you [quantic soul orchestra version]. acid jazz, 2004.
alex lustig feat. akacia. in the end. pop, 2018.